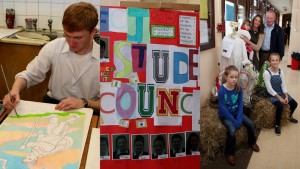 Click on the pictures to see larger versions
Our Open Day was held on Sunday 12th of October. The massive turnout included parents, primary school children, families of past and present students and the general public including past pupils!
The principal, Ms. Frances Threadgold, addressed a packed Study Hall twice during the day on how tremendously hard the management and staff work to meet the needs of all students, saying "Every child is welcome and we nurture each child towards excellence." She emphasised the numerous factors that set F.C.J. Bunclody apart from other schools such as the exceptional academic results, the range of subjects offered, the hugely successful anti-bullying policy, the excellent learning support network and the growing use of modern technology in our school. Our Head Boy & Head Girl, Cormac Byrne & Katelyn Bailey, spoke of their own experiences of F.C.J., e.g. the extra curricular activities that are offered and what incoming students of F.C.J. could expect if they were to attend. Two Meitheal Leaders, Aaron Howlin & Cormac Byrne, spoke about the Meitheal programme and its role in helping 1st year students to settle in to secondary school.
Displays of our students' hard work were displayed in every room and a wide range of fun and interesting events detailing all aspects of student life were held all around the school, such as quizzes, computer games, science experiments including dissections, sport and art demonstrations. A fantastic display of our musical talent was given by our orchestras, groups of musicians and individual musicians and singers.
The day was a fantastic success and an excellent opportunity for members of the community, particularly prospective F.C.J. students and their parents, to witness first hand the remarkable level of care and support that our school offers its students and the atmosphere of dedicated co-operation could not have been made more evident than the displays of the hard work of all the students and staff at F.C.J.