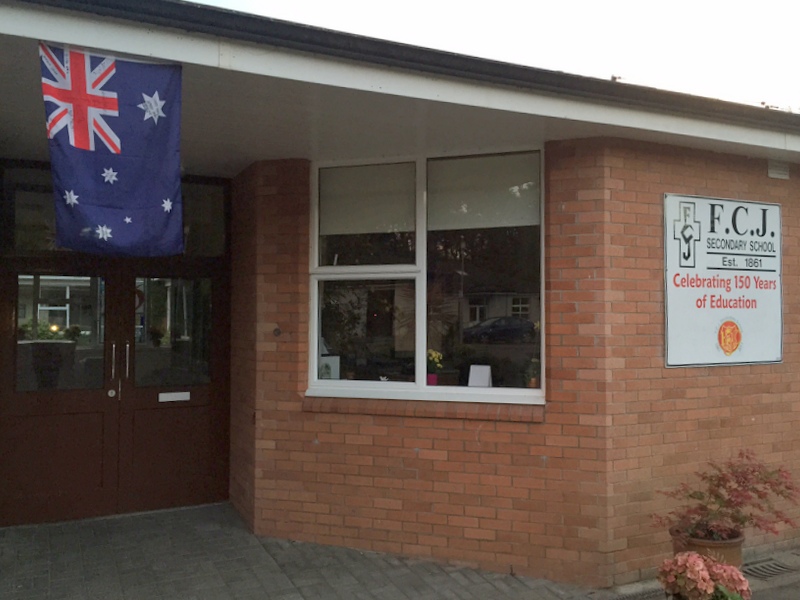 Since its inception in 1995, the Genezzano International Sporting Tour has played a vital role in furthering relationships between Genazzano FCJ College, Kew, Victoria, Australia, and international Faithful Companions of Jesus (FCJ) schools in Europe. This month long tour takes place every two years. Students play a series of matches at around eight different FCJ schools across England, Ireland, Belgium and France.    Genezzano F.C.J. College has 1,140 students – all girls, from kindergarten to Year 9 (aged 18), and has some boarding students.
Since 1995 a group of girls and their P.E. teachers have spent a day in F.C.J. Bunclody as guests of the school and especially the P.E. Department.   This year for the first time they stayed in Bunclody overnight with students from various school teams.     Twenty seven girls, their leader, Mr. Matthew Wesson, and four teachers arrived in FCJ Bunclody from Limerick on the afternoon of Wednesday, 23rd September.   Following lunch they took part in a Zumba Dancing session, which they hugely enjoyed.   Afterwards there was a Hurling Exhibition Match, which amazed them, and later that evening a Social was held in the school which turned out to be a fantastic event.   Well done to the music group who worked so hard to make the social a success – Liam Ascott, Laurence Dunne, Cathal Lee, Chloe Moulds & Aaron Rooney.
On Thursday morning, they played soccer and basketball with the school teams and then set off for Rosslare and the ferry to France where they visited the Notre Dame de France School, at Rue de la Santé, Paris, before ending their tour in Brussels.
Thanks to everyone who helped with the visitors, especially the families who hosted them, those involved on the school teams and social and the FCJ staff who worked so hard to make the visit a happy one for the Australian girls and teachers, i.e. Ms. Monica Dunne, Mr. Brendan Daly (Deputy Principal), Ms. Kathryn Howlin & Mr. Gabriel Wade.