Monday 16th November saw the culmination of the Team Hope Christmas Shoebox Appeal at FCJ Secondary School Bunclody when 1349 Christmas shoeboxes were delivered to the Wexford depot.    There is a long tradition of involvement in the Christmas Shoebox Appeal at FCJ Bunclody. Each year the Transition year students take on the role of co-ordinating the project under the guidance of Sr. Madeleine Hayes, fcJ,  and Ms. Una Osborne (T.Y. Co-ordinator).   In the current year over 50 students participated in this project.
As 15/16 year olds the majority of our TY group grew up with the Christmas Shoe Box Appeal. From a very young age they filled shoeboxes in their primary schools.  Each year TY students from FCJ visited the schools to talk about  the project, provided leaflets and then returned a few weeks later to take away the collection of shoe boxes as they began their journey from local primary schools to a child in some far flung part of the world.
In October they were asking students to think about Christmas presents already. But this would be no ordinary present. It wouldn't be stacked under a tree with countless other gifts. This gift would travel thousands of miles and bring a smile to the face of a child who might not receive any other present this year, children who are the victims of war, disease and poverty. Students were being asked to get a shoebox, decorate it and fill it with gifts for less fortunate children.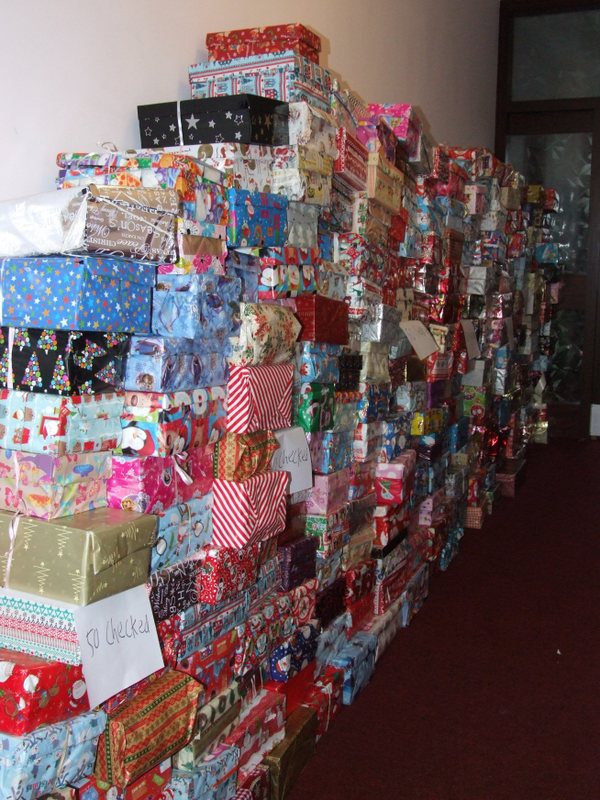 Students from FCJ co-ordinate the delivery of leaflets to schools and the collection of completed shoeboxes. They also ensure delivery of the boxes to a central depot in Wexford from which they will be packed on to a lorry destined for Eastern Europe. Students in FCJ are also invited to donate a shoe box/gift.
Following the Halloween break boxes began to arrive. A team of ten students checked, counted and secured boxes with elastic bands.   The beauty of this project lies in its simplicity – a gift from one child to another.
This project would not be possible without the help and support of so many, andto that end thanks are due to school management and staff of FCJ Bunclody, school management and staff of the participating primary schools, parents who have provided transport, FCJ students, Sr. Madeleine Hayes, fcJ, David Raleigh, Liam Martin, Liam Kavanagh, Ivan Byrne (transport of boxes to Wexford depot) and Lorna Burt (Co-ordinator – Wexford depot). But above all thanks to all those who so   generously donated Christmas shoebox gifts. Your gift will make a difference.