Our school has been awarded the Happy Heart @ School Catering Award. This award recognises the commitment and hard work of our caterer and our school in promoting Healthy Eating Practices.
Pictured below: Mrs. Patricia Breen, Caterer, with student helpers, Liza Bates (CV), Orlaith Breen (BV), Saoirse Power (AV) & Daniel Wibbe (VV).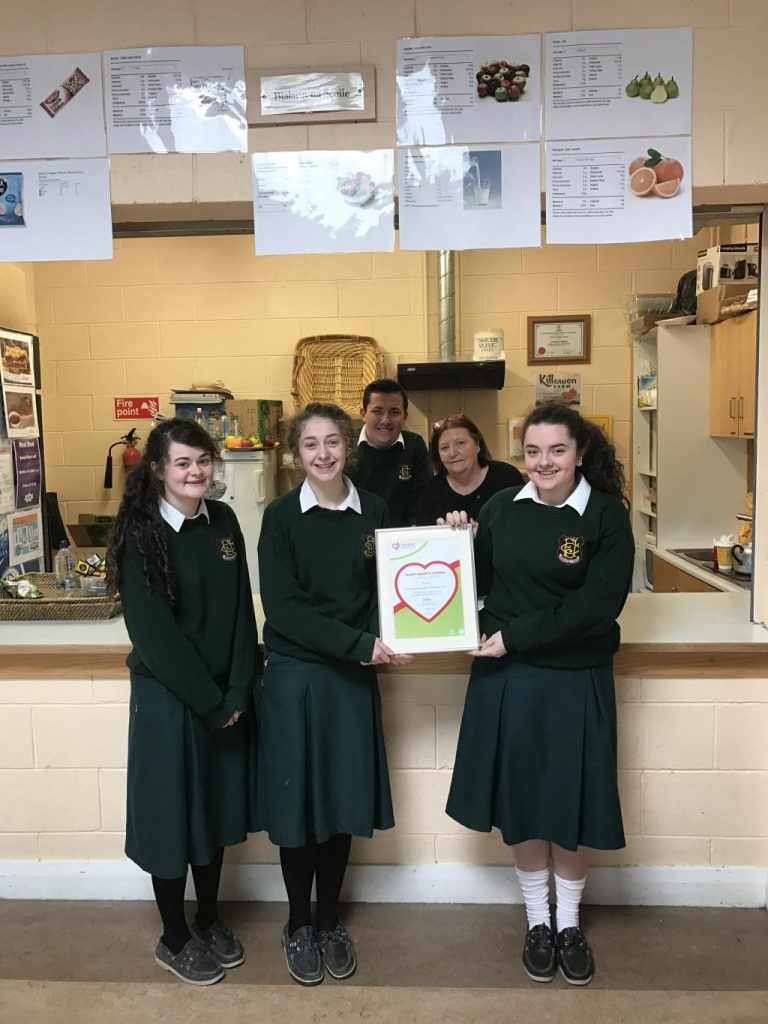 There are several steps towards achieving the Award which is promoted by the Irish Heart Foundation. The school had to set up a team to co-ordinate the programme and raise awareness among the entire school community of the Catering Award project.
An Irish Heart Foundation dietician visited the school and completed an independent assessment of the school's individual needs with the caterer. Recommendations on menu choice and catering practice were given. A final visit by the dietician took place 12 weeks later to review the changes made. When all the criteria were met the school and caterer were certified for the Award, which lasts for two years.
Mrs. Patricia Breen, of Drumderry, Bunclody, has been the school caterer for many years and we are delighted that her hard work and huge contribution to the healthy lifestyle of our students has been recognised nationally.
The Irish Heart Foundation Award recognises and rewards post-primary schools and caterers who promote and offer healthy food choices. They list the following benefits to students and schools:
School Benefits
Support to achieve a national School Catering Standard
An opportunity to link with the curriculum and encourage a whole school approach
Student Benefits
Improved concentration, performance and eating habits
Healthy food choice becomes an easy, appealing choice
Caterer Benefits
Parents and the wider community are reassured that the school is providing the best food for students