On Thursday, the 21st of September, 2017, the school's Beginning of Year Mass and Presentation of Badges and Academic Awards took place in the Church of the Most Holy Trinity, Bunclody. The Mass was celebrated by V. Rev. Joseph Power, P.P. of Kilrush parish.
Following the Mass, the Principal, Ms. Frances Threadgold, gave the following Address: "The FCJ values of Companionship,Respect and Justice are at the heart of our school life and are central to how we address bullying in our school. Our Anti-Bullying Policy clearly states that every student has a right to be happy in school and to be treated as a unique individual valued for who they are. Our entire school community is encouraged to fully embrace our policy and know that bullying is defined as behaviour that is DELIBERATE, HURTFUL AND REPEATED.
To show just how seriously we take this topic we – the entire school – will now pledge to abide by the school's Anti-Bullying Policy. Every student has the right to reject bullying and underst
and that we all must agree to abide by the school's Anti Bullying Policy. On behalf of each member of our school community now – I pledge to:
RESPECT one another and accept our differences
REJECT all verbal, physical, relational and cyber bullying
REPORT all bullying incidents in our school
I extend a very warm welcome to you all here to the Church of the Most Holy Trinity this afternoon to our Beginning of year Mass. As always I ask God's blessing on the school year ahead and for God to guide us in all our thoughts and actions so that we can make the most of what the coming year has to offer us – I will come back to our thoughts and actions a little further on.
And again I welcome in a special way all those joining us for the first time today. I begin with our 6 first year classes for whom this is the first of many school masses – you are at the beginning of a very important part of your life and I know that during your time with us in our Christian community of learning and companionship you will blossom and grow in courage and in confidence as you experience a holistic and enjoyable education. Today marks a significant development in the growth of FCJ Bunclody as it is the first time in the history of the school that we have over 900students – 902 – to be exact. That growth has allowed us to appoint our second Deputy Principal and I wish Ms. Una Osborne all the very best as she formally begins her work in that role.
I welcome too, the new members of staff who join us this year – Mr. Deane History/Geography, Mr. Doheny, Engineering/Technology, Ms. Drea PE/Irish, Mr. Farrell,
DCG/Tech Graphics /Maths, Ms. Finn, Irish, Ms Goff, Guidance Counsellor, Ms. Horsman, French, Mr. Leacy, History/RE, Mr. O'Donovan, MTW/Tech Graphics, Ms. Redmond, English, Ms. Rooney, Home Ec. & Mr. Sinnott, Maths. Then we have Ms. Potter standing in for Ms. Morris, Mr. Farrell who was standing in for Mr. Flynn. I also want to say a warm welcome to our student teachers, also past pupils of our school, who are back working with us. Mr. Cowman, Ms. O'Brien, Mr. O'Hara, Mr. Stephenson & Ms. Wise. I welcome back Ms. Doherty to us and Ms. O'Dwyer has come back with even more sparkle on her left hand as she got married over the summer so congratulations to you!!! Oh and welcome back Mr. Flynn!!
I welcome the parents who have been invited to share with us today in our celebration of academic achievement in last year's 1st, 2nd, and 5th year groups and in the Junior and Leaving Cert Examinations. As I always say it is a proud moment for you, our parents, and so it should be. It is especially so for the Ó Cheallaigh and Ó Muiri families who have more than one child receiving an award today. Your support for your children and for our school is a key factor in the success we are celebrating today so on our students behalf and on behalf of the school I say thank you to you the parents and I hope you really enjoy the afternoon.
I extend a special word of welcome to Mr. Jeff Mouland who has flown in from Canada to join us here today. Mr.Mouland is a Director of Ballycadden Wind Farm and he is here to present a scholarship award later to one of our last year's Leaving Certs.
Today's Mass does not happen without the work and commitment of a number of people. In particular I want to thank: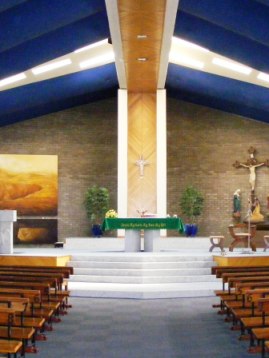 Fr. Power who has sacrificed his trip to the Ploughing to celebrate the Mass for us today
All the teachers who assisted in the preparation of the Mass especially our RE Dept
Mr. Dale Hennessy who put a lot of effort into preparing the hymns and music and for his hard work at choir practice
Pat O'Gorman
Ms. Nicola Carr and Ms Eileen Martin who produced the Mass Booklets
All the staff, beginning with Mr. Daly , coordinator of chairs, all the teachers, supervisors, SNAs, office staff and our caretakers George & David Raleigh for their assistance this afternoon
The students who took part in the offertory procession or as servers and readers – thank you to you all
But what about the first years who played and sang the Psalm and at communion. They really rose to the challenge I presented to them. It is no small task to stand up in front of over 900 people and do as well as they did. Our Psalm was beautifully sung by Kiera Doyle (A1). Kiera was accompanied on violin by Alex McGuinness (C1). Both girls come to us from Gaelscoil Enniscorthy. Then during Communion we had Katelyn Bolger (P1), Nicole Higgins-McLoughlin (B1), and Orlaith Deegan (P1) from Ferns Primary school and from Kiltealy N.S. we had James Alyward (A1) and Caoimhe O'Brien (M1). I am truly impressed with your talent and your courage and I look forward to hearing and seeing more of that from you in the next 6 years you spend with us. The Theme of our Mass today is let your light shine and you have certainly shone brightly this afternoon so well done to you all.
It is important to acknowledge all the students who are, despite going through a tough time, here with us today. Health issues, be it physical or mental, social issues, those who struggle to come to school or are going through a tough time at home – school is hard enough without any of that. We are very proud of you and we admire your courage and bravery to continue to come to school every day. Some others would do well to follow your example to make the most of every day.
I should mention here that we continue to promote Positive Wellbeing in our school and once again we have been awarded an Ambassador School status in the Cycle against Suicide. Students Fiachra Busher and Angelica Batko accompanied Ms. Carroll and Ms. Power to the award ceremony in Dublin recently. A huge congratulations to our CAS committee made up of students and staff. We are also the proud holders of the Amber Flag which is highly sought after and which promotes Positive Mental health and which was brought forward in our Mass today as part of our offertory. We were also shortlisted as 1 of the top 10 for the Mission Possible Awards – all linked to promoting and raising awareness about the importance of minding our mental health.
I would like to take this opportunity to publically congratulate all our students whom on the 13th August last received excellent Leaving Cert results in our school. Once again they surpassed even their own expectations with almost 10% – that is nearly 1 in every 10 students – attaining 500 points or higher with 7% got over 550 points – incredible. Exactly half – 50% – got over 400 points. Equally worthy of praise were the many students with Special Educational Needs who , with the help of support and extra tuition, did themselves proud and have gone on to further education with confidence. Today I thank again our teachers who have worked tirelessly with those students, teaching, mentoring , encouraging and supporting them all the way to that finale.
Speaking of last year's Leaving Certs I want to give special mention to one of them. Gearoid Doyle from Ballindaggin, a talented jockey and a real gentleman throughout his time in school with us, had a very bad fall off a horse in their yard just over a week ago and has suffered serious spinal injuries. I visited him last Monday evening in the special Spinal Injuries Unit in the Mater hospital. He has been through very difficult surgery but the news is good, thank God. I ask you to keep him in your prayers as he faces the long road back to full health. I was delighted to hear that friends from FCJ, who are now in college in Dublin had been in to visit him. Jack Doyle, Josh Martin and Cathal Doyle had all been in and he was expecting Liam Pender when I called. I was very proud to see that they were continuing to be faithful companions even after they have left us.
So we look forward to a busy and productive school year ahead. Next week we welcome students and staff from a sister FCJ school in Australia and some of our students are hosting those visitors in their homes. Thank you to Ms. Dunne who is helping Mr. Daly with the organisation of that and to the students who are hosting the visitors.
But before all that today is an opportunity to take time to reflect. As I said already the theme for today's Mass is LET YOUR LIGHT SHINE and if we as a school are to set out to enable that to happen then we need to look at what we stand for.
This is what we are supposed to stand for………
Our School is a Christian community of learning in which each student and member of staff experiences and is responsible for the development of person centered, holistic and enjoyable education.
Very impressive some of our parents here might say but have you students ever heard of that??? …… No??
That statement is written in the front of your journal, it is written on a plaque on the way in the front door of the school, it is over in the corridor of the Concert Hall!! It is our Mission Statement – what we are striving to achieve – so let's hear it again ……….
Our School is a Christian community of learning in which each student and member of staff experiences and is responsible for the development of person centered, holistic and enjoyable education.
What it's saying is each one of us has a RIGHT to enjoy all the areas of school life, a right to be ourselves and accepted for whom we are, and a right to develop our skills and talents to allow us develop into responsible citizens. So that's the RIGHTS bit …… everybody has a right ….. But … the word RESPONSIBLE is there too ….. We each have a responsibility to ensure that NO student OR MEMBER OF STAFF suffers as a result of anything we say or do – which brings me back to our thoughts and actions I mentioned earlier. We must all then ask ourselves: Do I pick on the quieter or different individual? Do I prevent teaching or learning taking place? Do I exclude anybody?
Again I bring you back to our Anti-Bullying Pledge because if every person in FCJ is to live by our Mission Statement then we, as a whole school community must:
RESPECT one another and accept our differences
REJECT all verbal, physical, relational and cyber bullying
REPORT all bullying incidents in our school
Remember too that you have a responsibility if you are a bystander. It is not ok to stand by and watch/hear/witness another student being bullied and then walk away without reporting it. And I include the behaviour on the buses here too. All our bus drivers have been fully briefed on our Anti-Bullying policy and will be keeping a watchful eye to ensure every student feels safe and happy travelling to and from school.
At the start of this year we as a staff have taken time to look at Our Mission Statement and to affirm all that we do well and look at what we can improve to live by those ideals. Throughout the coming months I will continue to examine that by including your valuable student voice to that and indeed the voice of parents too.
As principal of FCJ Bunclody I am very proud of each and every one of you. It matters deeply to me that I know you personally, staff and students, and value your contribution to our vibrant school. For the coming school year I want you to continue to work with me to allow each of your individual, colourful and unique lights to shine in our Christian Community of learning.
And so to today's celebration – as part of our ceremony we acknowledge four significant aspects of our school life.
The 1st event is the presentation of badges to the Student Council. The Council is your representation and a voice on your behalf. I am delighted to see such interest from our younger students and I look forward to working closely with you throughout the coming months to hear your views on what is working well for you and on what we can improve on to make school a safe and happy place for you. I thank Ms. McIvor for all her hard work and commitment with the Council. I now call forward the following students who will form the Council for the coming year to receive their badge and certificate – See Student Council 2017/2018 Names & Photograph under Information on the web site.
The 2nd event is the presentation of badges to the Meitheal Leaders. As you all know the Meitheal Leaders specifically take responsibility for the integration of our 1st years. From day 1 they are true companions to our new students, helping them to settle in and making our school a happier and safer place for all. The care and kindness shown by you Meitheal Leaders to our 1st years will live on in the hearts and minds of our new students for the rest of their school days and beyond. I would like to thank Mr. Murphy who has offered to help and guide the Meitheal leaders, having been one himself only a few short years ago!! Thank you most sincerely Mr. Murphy on behalf of the Dean of 1st Years and indeed myself. I now call on the Meitheal leaders to come forward to formally accept their badges: See Meitheal 2017/2018 Names & Photograph under Information on the web site.
The 3rd event honours our Senior Prefects. These are students who have accepted a leadership role in our school and they fully accept the privilege of being elected by their peers coupled with the responsibility to uphold and promote the good name of the school at all times and to contribute to the successful running of the school in any way they can. I now call on the Senior Prefects for 2017/2018 to come forward for their Dedication of Service and presentation of badges: See Senior Prefects 2017/2018 Names & Photograph under Information on the web site.
From among this group of fine young people a Head Boy and Head Girl have been selected – and today I announce who those 2 people are:
Head Boy: Cian Fitzhenry and Head Girl: Ciara Banville . Both students came to FCJ from Kiltealy National school so it is a proud day for the Duffry!
And now we come to the final event which is the presentation of Academic Awards and a Scholarship. Academic achievement is central to our Mission Statement and so today we present awards to the students who got FIRST overall in their classes in the summer examinations, the students who got 5 As or more in H L subjects in the Junior Certificate examination, the student who got the highest result in the Junior Cert and the student who got the highest results in the Leaving Certificate examination last August.
Just before all that we have a scholarship to award. Ballycadden Wind Farm situated a few miles from here launched a scholarship programme this summer to help students from our school pursue their educational goals at third level. The successful student will receive €1,000. In its inaugural year the scholarship recognises a Leaving Cert student for his/her academic, school and community achievements. I will now invite Mr. Jeff Mouland to come forward to present the award.
Students who got 1st overall in their classes
Junior Cert Awards
Junior Cert Award
This year it gives me great pleasure to award a young lady who is diligent in all her work. A very talented performer with a beautiful voice. She attended Marshalstown primary school and since the day she joined us 3 years ago she has been a joy to have in the school. She has always given her best, without fuss or bother and is a worthy recipient. The top result of 11As in Junior Certificate 2017 goes to: Grace Kehoe
Leaving Cert Award
Again for this award we have a very worthy recipient and another young lady who doesn't do fuss or fanfare. She is the youngest of a family of 5 who all came to FCJ from Kildavin N.S. She has been an outstanding student throughout all her time in FCJ. She has enjoyed and excelled in all aspects of school life and has been a keen sportswoman and a great team player. She has always led by example, been a quiet-spoken, humble student who never looked for the limelight but who has always stood apart. She banked 613 points in her Leaving Cert and is studying to be a Home Economics teacher – believe you me it will be the lucky school that gets her!! I am delighted to welcome back to FCJ for the Top L Cert Award : Orlagh Hickey
Please go to About Our School / Awards + to see photographs and names of all the above prize winners