Congratulations to past pupil, Aidan Nolan of the HWH Bunclody G.A.A. Club, on being selected as Man of the Match following the Allianz 1A Hurling League win for Wexford over Cork on February 4th.
Also outstanding for Wexford was another past pupil, Paul Morris of Ferns St. Aidan's Club.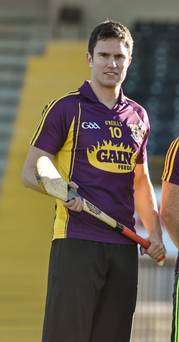 We are very proud of them and all the young men and women, who are past pupils of the school and who represent their counties.
In other G.A.A. News, a past pupil and parent representative on the Board of Management, Micheál Mahon of Bunclody, was in New York recently, chairing a group representing Wexford G.A.A. on a fundraising trip. Successful fundraising events were held, as well as coaching sessions with two clubs. Positive relationships were built with the New York GAA and business communities and it is hoped that the visit can become a recurring event on the calendar.