The Active Schools / Healthy Eating Week took place in F.C.J. Secondary School, Bunclody, from Monday, April 9th to Friday, the 13th. The school would like to say a massive thank you to the sponsors who supplied fruit, milk and water all week; Eurospar Bunclody, Strathroy Dairies, Aldi Bunclody, Pettits Enniscorthy, Lidl Enniscorthy, Cullen Fruit & Veg., Shay Hayden Avonmore Milk & Tony Butler Meats. Fruit and milk were distributed to students each day by the Senior Prefects.
The week started with a PowerPoint being shown to all students to reinforce the theme which was to heighten student awareness around the hidden sugars in food products and the value of a healthy lifestyle. This was prepared by the Active Schools team and entitled "Sugar is Toxic". Information stands and a life size food pyramid were placed in the school entrance area.
A number of guest speakers came in during the week to speak to students on their own life stories and how leading an active lifestyle and eating healthily has benefitted their lives. All gave their time completely free of charge and the school community is very grateful for their continued support of the school. The following guests visited and addressed the students; Paul Morris (Wexford Hurler & past student), Sean O'Brien (Leinster & Ireland Rugby player), Yvonne Treacy (Parent & Nutritionist with Wexford Senior Ladies Camogie & Football teams), Mary Flynn (Wexford Sports Partnership), Frank Devereux (Sports Science, Strength and Conditioning – Wexford GAA Coaching Officer & past student), and Abbie Rynhart (past student) who spoke movingly of her battle with illness and the role nutrition and an active lifestyle have played in her recovery process.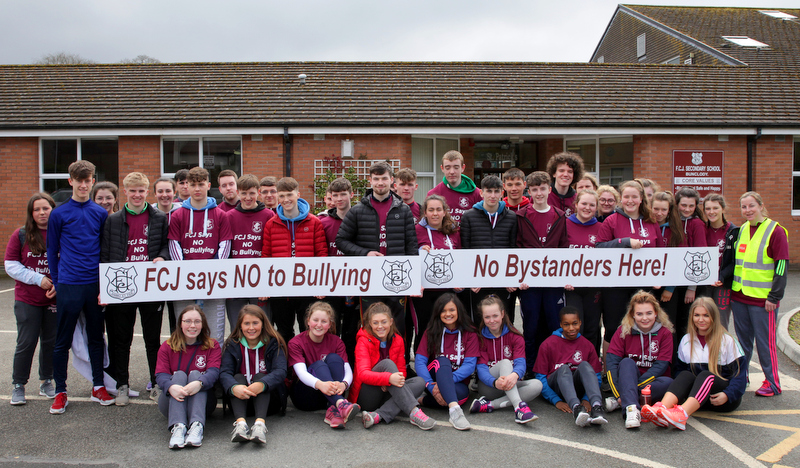 The major event was held on the Wednesday afternoon and involved a Whole School Walk and Tractor Run to Kildavin and back. Over 980 students, teachers and supervisors took part and had a wonderful afternoon. The purpose of the afternoon was threefold;
An active event involving the whole school
A statement against bullying by the whole school (all participants wore maroon T shirts with school crest stating "FCJ Says No To Bullying" on the front with "No Bystanders Here" on the back
A fundraiser for Cancer Care
Ms. Threadgold & Helpers handing out drinks & fruit
Staff at the bridge in Bunclody
Mr. Daly caught SMILING at the end of the Main Street
Huge thanks are due to the Active Schools Team who organised the week: Mr. Brendan Daly, Deputy Principal, Ms. Anne Drea, Mr. Tommy Earls, Mr. Mike Fitzgibbon, Ms. Kay O' Connor & Ms. Carmel Wade.