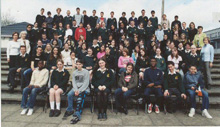 Exchange programmes were an important part of the 4th year experience and were undertaken with a view to improving language skills and to give students an awareness and appreciation of other cultures.
However due to the increasing numbers who are doing 4th year, it was not possible for schools to host our numbers so we have replaced the exchange with an extended weekend in Europe where the students are exposed to different cultures and languages.
In 2016, they visited Italy including Milan, Simone, Gardaland, Venice & Verona – including the famous 'Juliet Balcony'.
Top Photograph : April 2005 French & Bunclody Students
Above: 2004 F.C.J. Group in Paris
Exchanges undertaken to date
Lycée Bichat, Luneville (France)1992/93
Lycée StMichel,Reims(France) 1994/95
Nyborg Gymnasium, Nyborg (Denmark) 1994/95
Lycée StMichel,Reims(France) 1995/96
Lykeio Haidariou,Athens(Greece) 1995/96
Lycée StMichel.Reims(France) 1996/97, 97/98, 98/99 & 99/00
Notre Dame De France, Paris (France) 2000/01, 02/03, 04/05*
Lycée StMichel,Reims(France) 2001/02 & 03/04
* Notre Dame De France is an FCJ School in Paris
These exchanges have been enjoyable occasions and, undoubtedly, had an Educational and Social importance, often immeasurable. Some student friendships have endured over the years and many have had their horizons broadened and will be able to accept differences and understand that there is frequently another point of view. From a teacher point of view, exchanges have also been rewarding. A good working relationship and indeed lasting friendships have been established between all who have been involved over the years.
TRIP TO PARIS