A top priority of the F.C.J. Congregation and other Congregations in Ireland is to protect the Ethos of their schools at this time of change. The 'Le Chéile Schools Trust' was set up following the collaboration of 12 congregations including the F.C.J. Society. The trust carries out the increasingly complex legal and inspirational role of the Patron previously exercised by the congregations and is established as a legal entity, under company law. Today the Le Chéile Schools Trust comprises the schools of 14 religious congregations.
In setting up the Trust, the congregations wish:
To affirm their commitment to the future of Catholic Education
To provide for the needs of the students and communities in their schools
To honour their partnership with the government in the education system.
The F.C.J. Ethos of the school and the Management of the school will remain unchanged. The school
Continues to work from a definite vision of education and welcomes all who support that vision.
Promotes a sense of community for all who are involved in the school
Develops a curriculum that helps students to reach their personal potential and to contribute fully, actively and fruitfully to society
Supports students through the pastoral care system to benefit from their education.
The Spiritual dimension is evident in the community life of the school and is inclusive of all members and is developed in a spirit of partnership
The symbolic transfer of the trusteeship took place in each of the F.C.J. schools at the Beginning of Year Mass in September 2009. Present at the Mass in Bunclody were Sr. Maria Dunne, fcJ, Provincial of the F.C.J. Society in Ireland, and Ms. Vivienne Dunne, representing Le Chéile, as well as representatives of the school's Board of Management.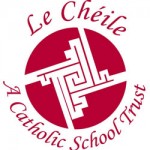 The Le Chéile logo was designed by Helen Roberts, a past pupil and former teacher in F.C.J. Secondary School, Bunclody.
See the Le Chéile Trust website here www.lecheiletrust.ie