T.Y. Co-ordinator:
Ms. Catherine Doyle
Deans of Year:
Ms. Catherine Doyle & Ms. Denise Nolan
Form Teachers:
Mr. Dean Farrell, Mr. Paul Fitzgerald, Ms. Denise Nolan, Ms. Suzanne Murray, Ms. Nora Hanrahan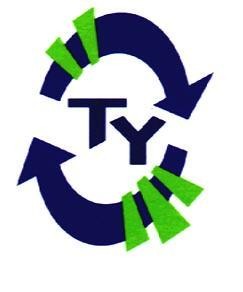 Introduction
Transition year (4th year) is a one year programme offered to students at the end of Junior Cycle. The aim of the year is to provide opportunities for students to acquire skills and to discover individual talents, aptitudes and abilities. The emphasis is on the intellectual, social and personal development of students to help them tackle the demands of Senior Cycle and beyond.
The Curriculum
The transition year programme is designed by each school under Department of Education guidelines to cater for the needs of their students. Transition year at FCJ Bunclody is a broad based programme. The content of the curriculum may vary from year to year. A cross curricular approach is adopted whenever possible. The programme is designed based on four layers. The curriculum in the current year includes:
Core Subjects
These subjects are timetabled for the entire year. They are the Junior Cycle and Leaving certificate subjects of Irish, English and Mathematics. Transition Year is an opportunity for students to build on the foundations laid at Junior Cycle and to take remedial action where necessary in preparation for Leaving Certificate.
Subject Sampling
These are optional Leaving Certificate subjects that are offered and tailored to suit the TY programme. At FCJ Bunclody some of these are offered on a full year basis while others are available for a six week period on rotation. In the current year these subjects include: Chemistry, Biology, Business, Technology, Woodcraft, Accounting, French, History and Geography.
Workshops
Transition year students undertake a variety of workshops across the year e.g., Induction Day, Matrix Training, Self Defence, Law Ed, Science workshop, Drum workshop, Art workshop, Driver Theory & Lesson, Inspireland Poetry Workshop, First Aid, Film Making, Radio workshop and Zeeko Internet Safety workshop.
Social Awareness
A group of transition year students travel to the Bunclody Daycare Centre and Ros Aoibhean Nursing home each week on a rota basis to chat, play cards, sing and play music to and with the people who use the centre. Other students attend the Daycare to assist with a digital literacy programme for the Senior Citizens of the community. Transition Year students are also involved in fundraising activities and the Team Hope Christmas Shoebox Appeal each year (in the current year this aspect of the programme has been suspended due to COVID19 restrictions).
TY Modules/Subjects Layer
PE, RE, Computers, Personal Development, Mini-company, Career Guidance and Public Speaking are undertaken by all students for the full year. Students also have the opportunity to undertake a series of modules which rotate across the year allowing students to study each subject for approximately 6 weeks. These include Wellbeing, Mental Health, RSE, Health, Fitness and Training, Anatomy and Physiology, Road Safety, Politics, Healthy Eating and Sustainability in the built environment, Environment – Caring for our Common Home.
Mini-Company
All students are undertaking the minicompany programme, an opportunity to set up and run their own business. Transition Year students also have the opportunity to undertake the following optional extra-curricular programmes Eco Unesco, Sci Fest, and Gaisce.
Trips
Transition Year students undertake a number of subject based trips over the year e.g. Outdoor Pursuits Adventure Centre (P.E.), Road Safety – Wexford, History – Croke Park, Glasnevin Cemetery, Career Guidance & College Open Days, Wexford Arts Centre – A Face in the Crowd, Ger Carey Live, Curracloe Trip (surfing & sand dune games), Minicompany – Tayto Park and TY form class trip.
Project Work
Project work comprises an important part of T.Y. Across the year they will be involved in project work in a variety of subject areas e.g. English – Press Pass, Geography – presentations, French – art/craft piece, History – My Personal History, local history etc.
Once Off / Calendar Events
These events or activities take place on specific dates or times during the year. These may include workshops and trips.
Work Experience (one day per week)
This is an integral part of the transition year programme. Students attend work experience each Friday. This provides an opportunity to investigate possible career areas and to experience the world of work.
In addition students have the opportunity to apply for places on a variety of additional structured programmes eg. Introduction to Hospital Life Programme (Mater Hospital), R.C.S.I. Mini Med Programme, Law Society Programme – Solicitors of the Future, Bar of Ireland Transition Year Programme, College programmes for transition Year students, the Defense Forces, etc.
In light of COVID19 an online course is available for students to complete in lieu of work experience in 2020/2021 – Make That Course or Project One Sky. This is open to students who are unable to secure work experience and is completed on site at FCJ Secondary School on Fridays.
Transition Year differs from other educational programmes in that students are freed from the constraints of the formal examination system. While there are no state exams, assessment is carried out on ongoing basis and includes school based assessment in the forms of written projects, orals, practical work, presentations, class tests etc.
In the current year 120 students are undertaking transition year (5 classes). You can follow their progress on the school app and here on the website.